---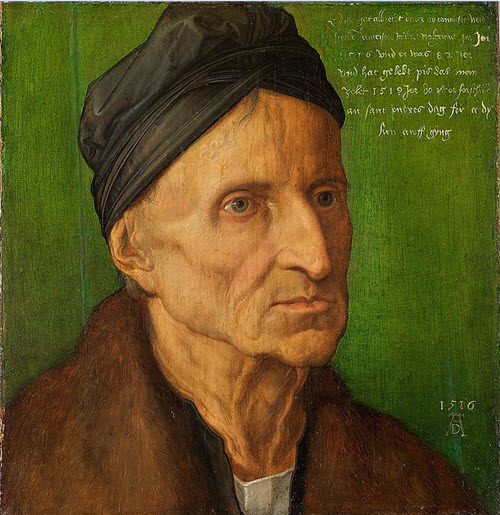 Michael Wolgemut
Michael Wolgemut, or Wohlgemuth (Nuremberg, 1434 - Nuremberg, November 30, 1519), was a German painter, engraver and typographer. he ran a large art atelier employing many artists in the production of religious art, such as altarts and retables, as well as producing many engravings for illustrations to be used in the print industry.
In addition for his own work, which set new standards of quality for wood engravings, Wolgemut is noted for having been the teacher of Albrecht Durer, who was appenticed to Wolgemut from 1486 to 1489.
Wolgemut began his career as an apprentice and employee in the art studio of the Nuremberg artist, Hans Pleydenwurff, which like most artists' studios of the time, operated as an art factory producing religious and secular art on commission. When Pleydenwurff died, Wolgemut married his widow, and took over running the studio. He employed Pleydenwurff's son as one of the artists working under his direction.
Wolgemut is chiefly known for his fine woodcuts, which were used by printers to produce book illustrations. One of his most notable works was a series of wooducts of the Dance of Death and the production, in conjunction with his step son, of a remarkable set of over 1,800 illustrations for the Nuremberg Chronicle, a gigantic world history and paraphrase of the Bible. These woodcuts were used as plates in a printing press to produce illustrations for the book, and then colored by hand. A page from Wolgemut's Nurmberg Chronicle is shown below.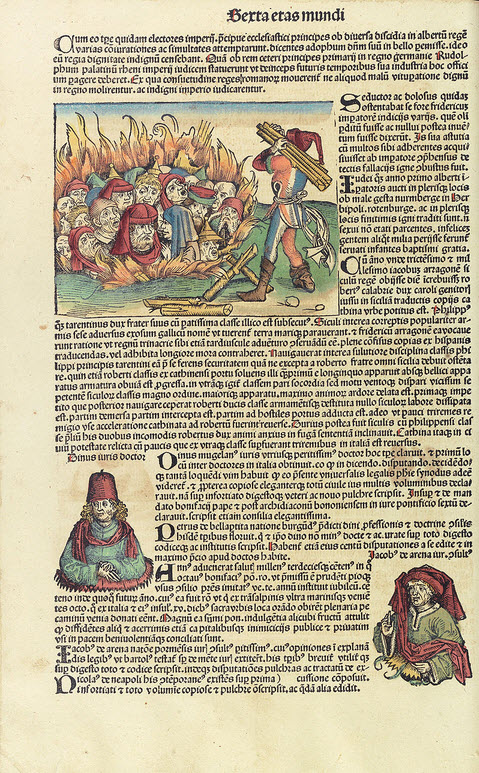 Wolgemut is credited with advancing the technique of wood engraving, particularly in depicting fine lines and shading. His apprentice, Albrecht Durer, learned his technique from Wolgemut but quickly surpassed him in talent and the quality of his artistic work.
---